Have you ever bought or received a gift and not fully unwrapped it because it would take time to learn how to use? A computer, power tool, vacuum cleaner? This is the season of giving and receiving gifts.
Ephesians 2:8-9
For by grace you have been saved through faith; and that not of yourselves, it is the gift of God; not as a result of works, so that no one may boast.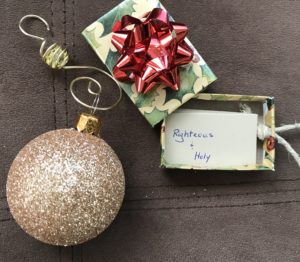 What is that gift? Jesus is the gift for all humanity for those who believe Jesus died for their sins. For those who believe by faith, like Joseph, like Mary, God gives the free gift of grace. Our gift is Jesus & the inheritance we have in Him. I believed from a young age that Jesus was a gift. I believed He died for my sins and that by believing I knew I would be with God forever, but I never fully unwrapped the gift. I believed I needed to earn the gift of Christ by my good works. I knew I constantly failed and missed the mark of "good enough." I felt sad and depressed. It took me years to unwrap the great inheritance we have in Christ. God knew I could not be perfect so He sent the perfect One to come be my perfection and righteousness.
This is the gift "In Christ":
I have been rescued from the law, sin, and death

I am accepted

I am a saint

I have peace with God

I am a new creation

I have been made righteous

I am more than a conqueror

I have been given the Holy Spirit, He guides and directs me and reminds me of my identity in times of trial

I am victorious

God is for me not against me

I have been made alive with Christ

I have been brought near to God by the blood of Christ
The riches in Him are many. Because Christ was born, He died. He died to free me to live a victorious life. Because of the gift of Christ I can be bold in my faith, living in the light of eternity knowing this life will pass away. What will remain will be my testimony of God's glory and grace and the lives I touch with the good news of Jesus coming to earth as a baby, being the ultimate example of a servant…God taking on humanity to then die for our sins. A babe in a manger to a man on a cross. That is what Christmas means to me. I will remember the gift of Christ this Christmas, which reminds me to live boldly in the light of eternity. Let's not just receive the gift, but fully unwrap the blessings that lie within.
To remind you of this gift at Christmas I have made a Matchbox Template for making a matchbox ornament for your tree where you can remember who you are in Christ!
---