Learning From Hagar's Suffering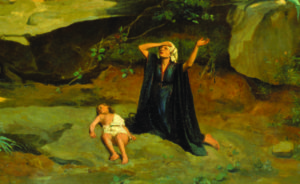 Hagar is thought of in a negative light most of the time. She did not birth the son of promise. However, God did see her heartache, spoke with her, and gave her promises to hold onto as He sent her back to the place of her suffering. This article from Grace in Focus Magazine gave me some things to think about:
God spoke to and gave Hagar, a woman, promises to hold onto in the midst of suffering.
God sees this woman.
Hagar believed the words of God to be true. She had faith in God.
God loves women, women are useable for His purposes.
In the midst of suffering we can suffer well as we look to our future with God (Romans 8:18-25).
Article Snippet: Hagar's Legacy to Us
Grace in Focus article by Marcia Hornok
September 1, 2017
When you suffer, do you also want to run away? Do you plead for the thorn's removal or at least ask God to show you reasons?

God gives promises not explanations.

He wants us to ask "Who are You, Lord?" not "Why am I suffering?"

Every [be]wilderness is an opportunity to see God in a new way and learn things you did not know before.

With this perspective of Hagar, we can also see Ishmael in a new light. Another "first" in Genesis is found in 21:20, "God was with the lad." Later, this phrase about God's presence is given in the book for Abraham, Isaac, Jacob, and Joseph, but Ishmael was first. Is God's presence enough for us, especially when we suffer? After we believe the promise of eternal life, the best promise in Scripture is that God is with us. Not only does He see and hear, but He never leaves or forsakes us.

We may not get a remedy, but we are not without resources. We have God's presence. He sees our needs and hears our pleas. When we remember this, we can respond like Hagar—surrender to God and submit to suffering if that is what God wants.
Read More: Hagar Does Not Deserve Her Bad Rap
---